Volunteers are vital to our organization. Without our volunteers it would be incredibly hard to keep the rescue going. They are the backbone to Carter's Rescue and we are always so appreciative of their time. Volunteering with Carter's Rescue can be as little as a few hours a month or a few days a week, its flexible to your schedule and of course the dogs!
Volunteers help in a number of different ways so if you feel you have the right skills and time we would love to hear from you. We are always looking for those who are able to transport dogs, who can spend time with and walk our pups and those who like to do the mucky jobs- kennel cleaners!
If you think you can spare some time to make a difference, Please Contact Us
---
A note from one of our volunteers:  why I volunteer for Carter's Forever Rescue and Sanctuary.
Because of Dakota.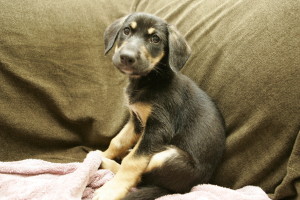 Dakota is our six year old German shepherd/lab. Before we got Dakota I was never much of an animal person. Sure, I liked animals, but i never really understood when someone was so completely heartbroken and devastated when their dog or cat died. Of course I felt empathy, but i never really got it, I never understood those feelings. To me, it was 'just a dog.' Until we got Dakota.
Dakota was eight weeks old when we brought her home. She made her mark, quite literally, on our kitchen floor. I remember thinking, is this what it's going to be like every day, cleaning up piles of runny poop. Some days it was. Other days it was running along side her, willing her to somehow understand to walk properly on a leash. Some days it was cuddling up to her and breathing in that soft, puppy fur. Other days it was laughing at her wobbly, too big for her paws and her total lack of coordination.
Slowly, i saw that she had this personality. This hilarious, heartwarming, affectionate personality. I saw that she had feelings. She quickly responded to our low disapproving tones of whatever mischief she was currently pursuing. She could feel fear, happiness, excitement and anxiety. She wasn't just an animal, one you could easily discard because she was 'just a dog.' She was timid, beautiful, curious, excited, anxious, hilarious, our Dakota. She was ours, and we were so lucky. Those deep, brown saucer like eyes stared into mine and I knew she wasn't 'just a dog.' Dakota showed me the personalities of other dogs when we took frequent trips to the local dog park and I realized that all around me were these great pups, each so different.
Suddenly, i understood. When I remembered my feelings all those years ago, how it was 'just a dog' I couldn't imagine ever feeling that way again. I finally understood how people felt when their beloved dog passed away. I finally appreciated their feelings of sadness and that it wasn't 'just a dog.' It wasn't just an animal.
That is why I volunteer at Carter's. Because of Dakota. She opened my eyes to this crazy, amazing dog world. She helped me to understand the personalities of these hilarious fur balls. I volunteer for Carter's because Dakota showed me a different side to dogs I hadn't seen before. She is the reason I love volunteering for an organization like Carter's. One that tirelessly works so hard to give dogs the best life possible. An organization that goes above and beyond. They work on such small manpower but they still continue to do the work that they love to do. That's why I volunteer at Carter's, as I recognize that my small part in helping out, really does help out and make a difference. It doesn't matter if I can help out for five minutes a day or spend a whole weekend volunteering my time, as I know it's helping those beautiful, hilarious dogs, and that's all that counts. That's what Dakota showed me.